Welcome message from WIWC Executive Director, Sarah Ford


On Saturday March 13, 2021, the West Island Women's Centre will launch the West Island Women's Forum. Throughout the week (March 14 to 17), we will hold daily webinars and online discussion forums that will cover a range of topics related to supporting women during this new reality.
As we are all familiar with now, this pandemic has caused different segments of our population to be adversely affected. Women of all generations have faced many challenges: insecurity with work, increased financial insecurity, increased isolation (especially seniors and those living alone), familial stress and pressures, along with other challenges to mental and physical health.
We are more determined than ever to provide much needed support to women within our community. We have identified sessions that will provide support and information covering these topics. We hope that you are interested in participating in our Forum which will be a valuable and informative experience for all women.
Our goal is to provide a low-cost opportunity for Forum registrants. Participants can choose to attend just one session or any number of the sessions for a $10 registration fee.
ORGANIZED BY: West Island Women's Centre (WIWC)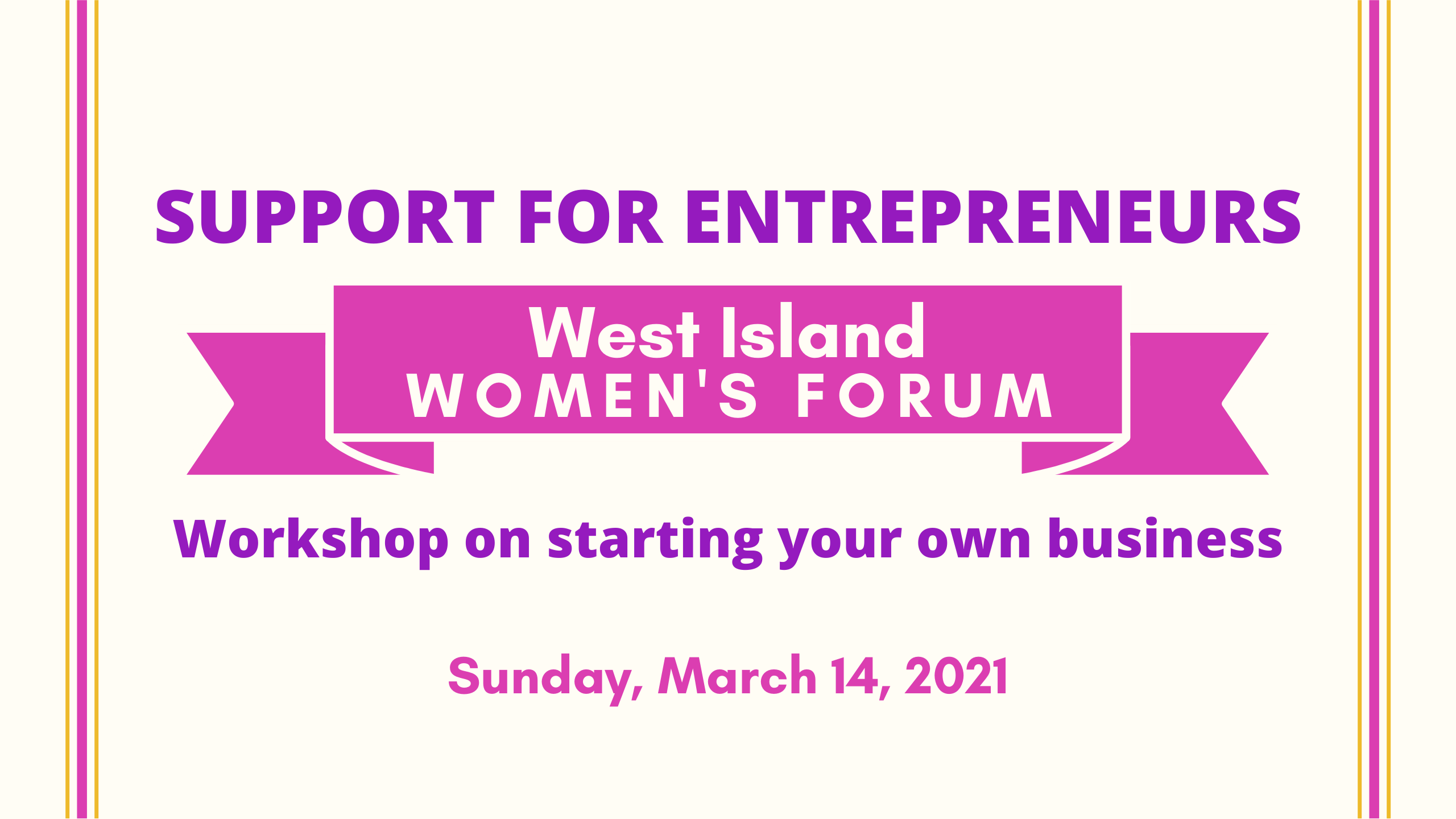 Support for Entrepreneurs Workshop
Sunday, March 14, 2021, at 10:00am: Do you have a great business idea that you want to share with the world but do not know where to begin? Are you starting a business and would like to learn more about what to do? This session will cover the important things to consider and show you how you can take this step.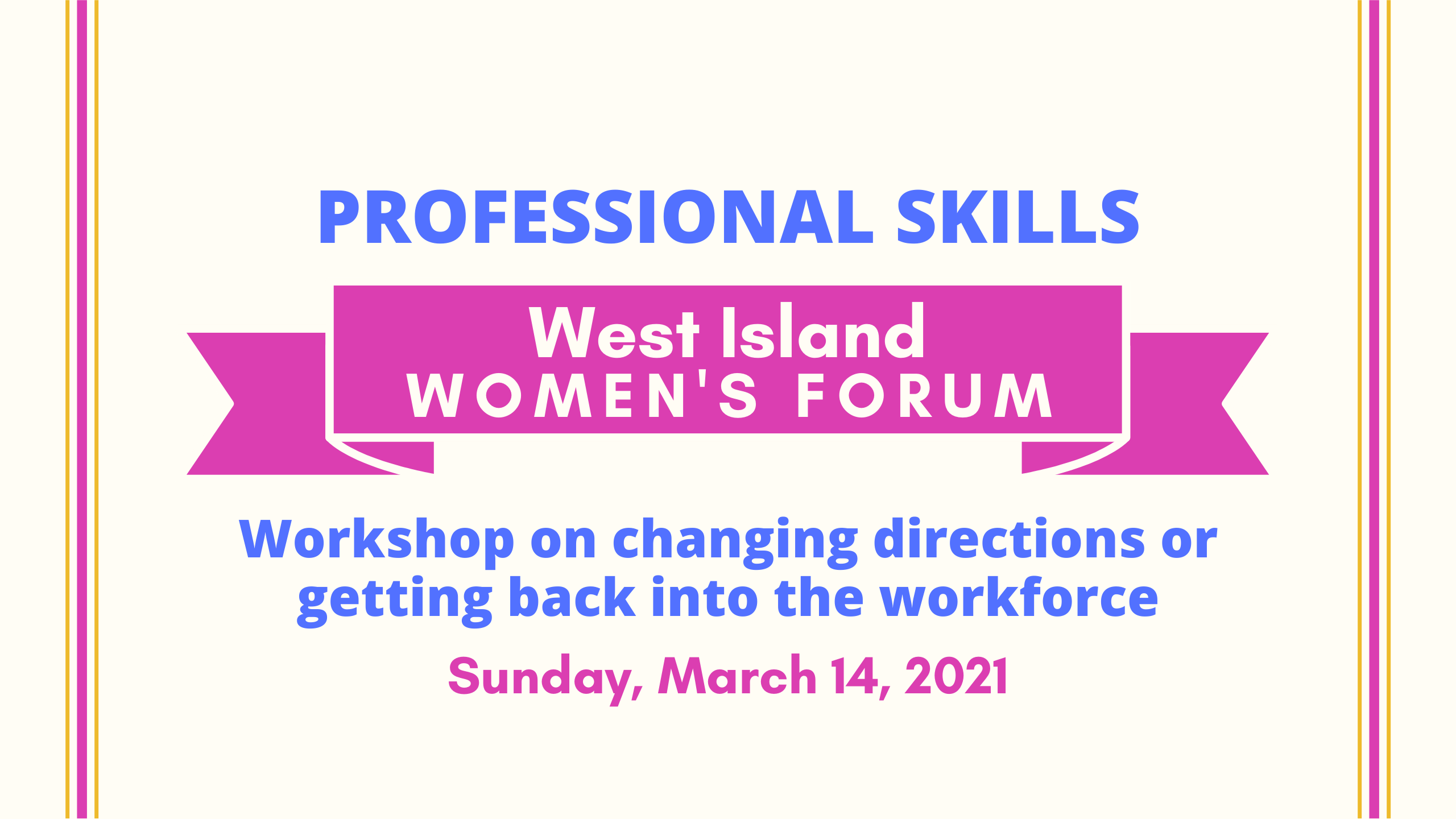 Professional Skills Workshop
Sunday, March 14, 2021, at 2:00pm: What skill professionally would you like to learn or improve? Have you faced a change in your employment and are looking for a new job? Whether it be changes in employment, going in a new direction with your career, presenting your ideas, or navigating work relationships, this session will cover how to go outside your comfort zone at work.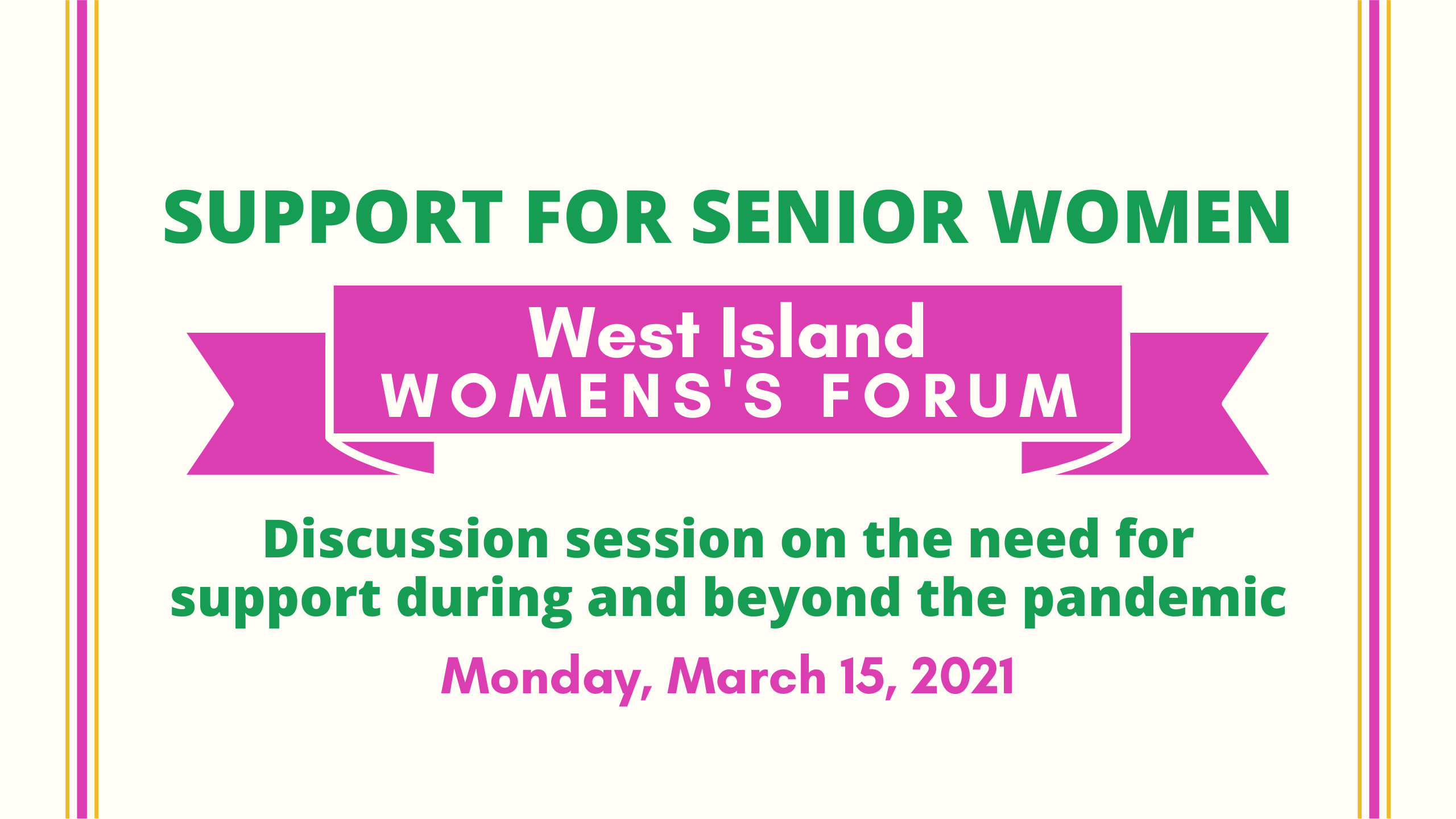 Supporting Senior Women Session
Monday, March 15, 2021, at 7:00pm: Senior women across our community have faced numerous challenges during this period: isolation, navigating a more complex medical and social services system, distancing from families, and concern over future support. This will be a moderated discussion group with senior women from our community.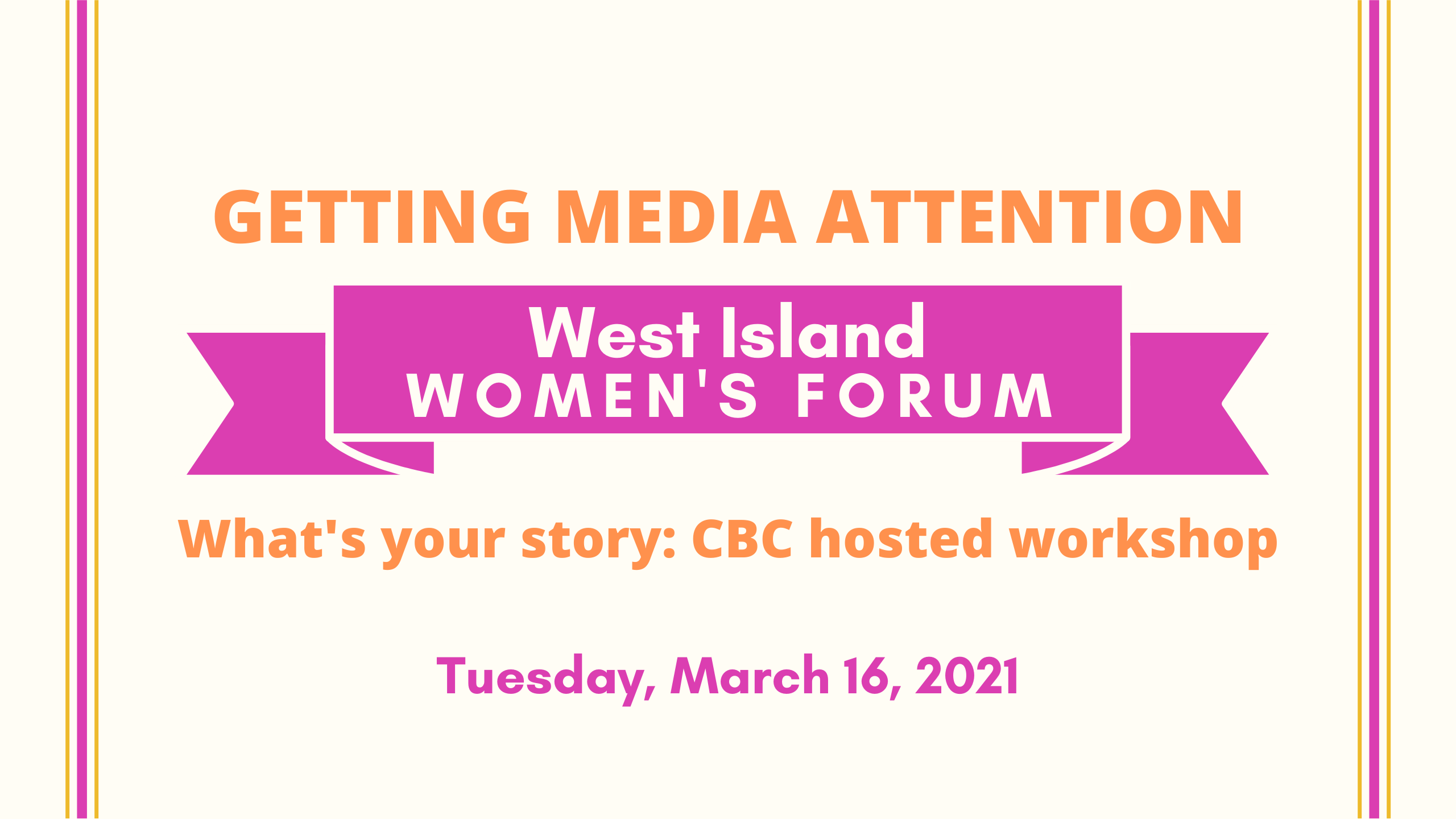 Tuesday, March 16, 2021 at 10 am: This workshop, hosted by the CBC, explores what makes a good news story, what elements to include when pitching to the media and the best practices in terms of approach.
This session offers tips on what journalists are looking for and how to hone your/your organization's stories to make them stand out in a sea of competing pitches. Session participants have the opportunity to submit in a pitch (taking into consideration what they had learned in the workshop) and can receive feedback from the CBC team on what worked and what could use improvements.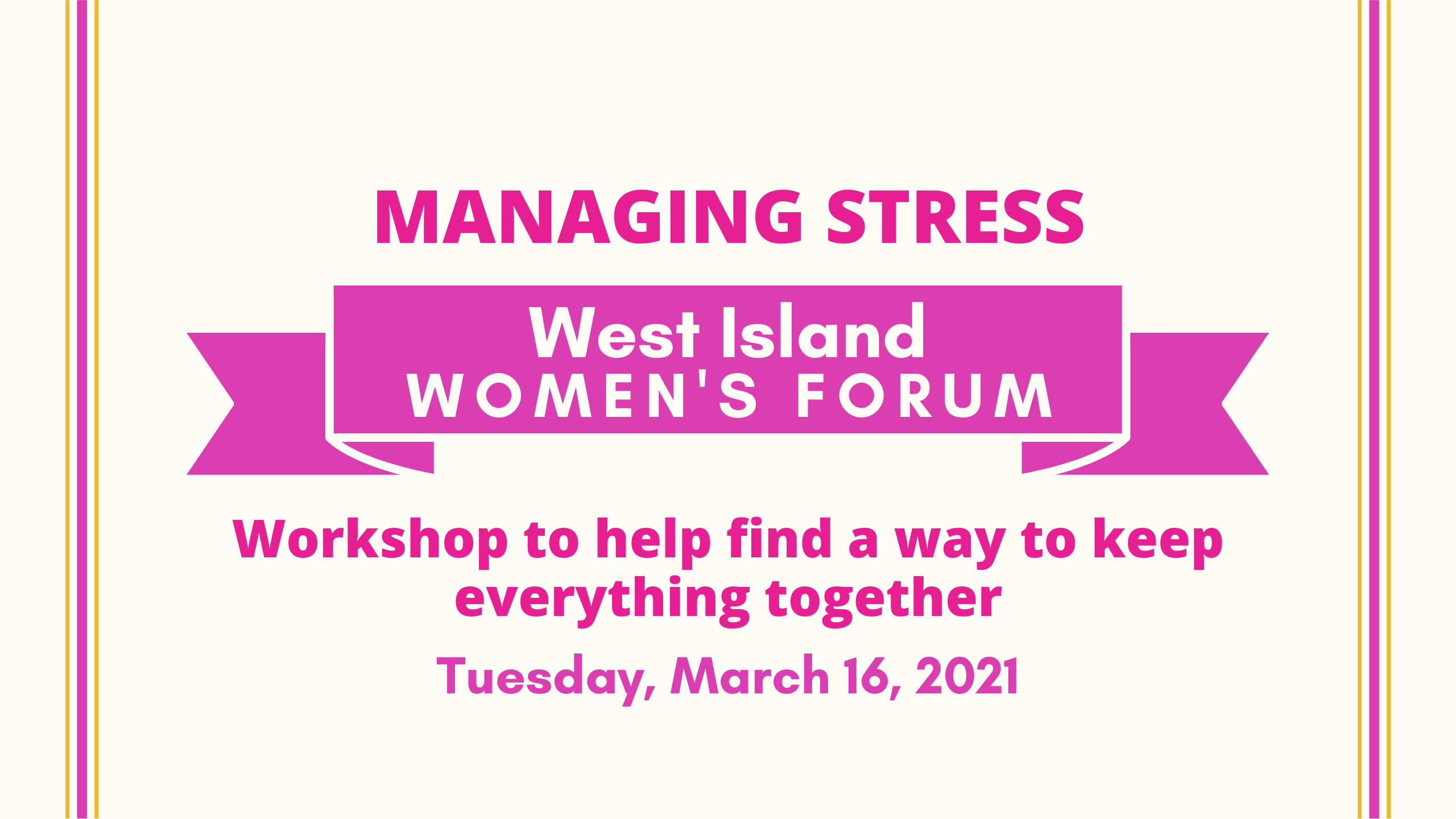 Tuesday, March 16, 2021, at 7:00pm: Are you looking for ways to adjust to new stresses in your life? Trying to find a way to manage anxiety during this period? Facing increased isolation and in need to finding new ways to connect with people in your community? This workshop will explore practical ways to manage your life while facing these challenges.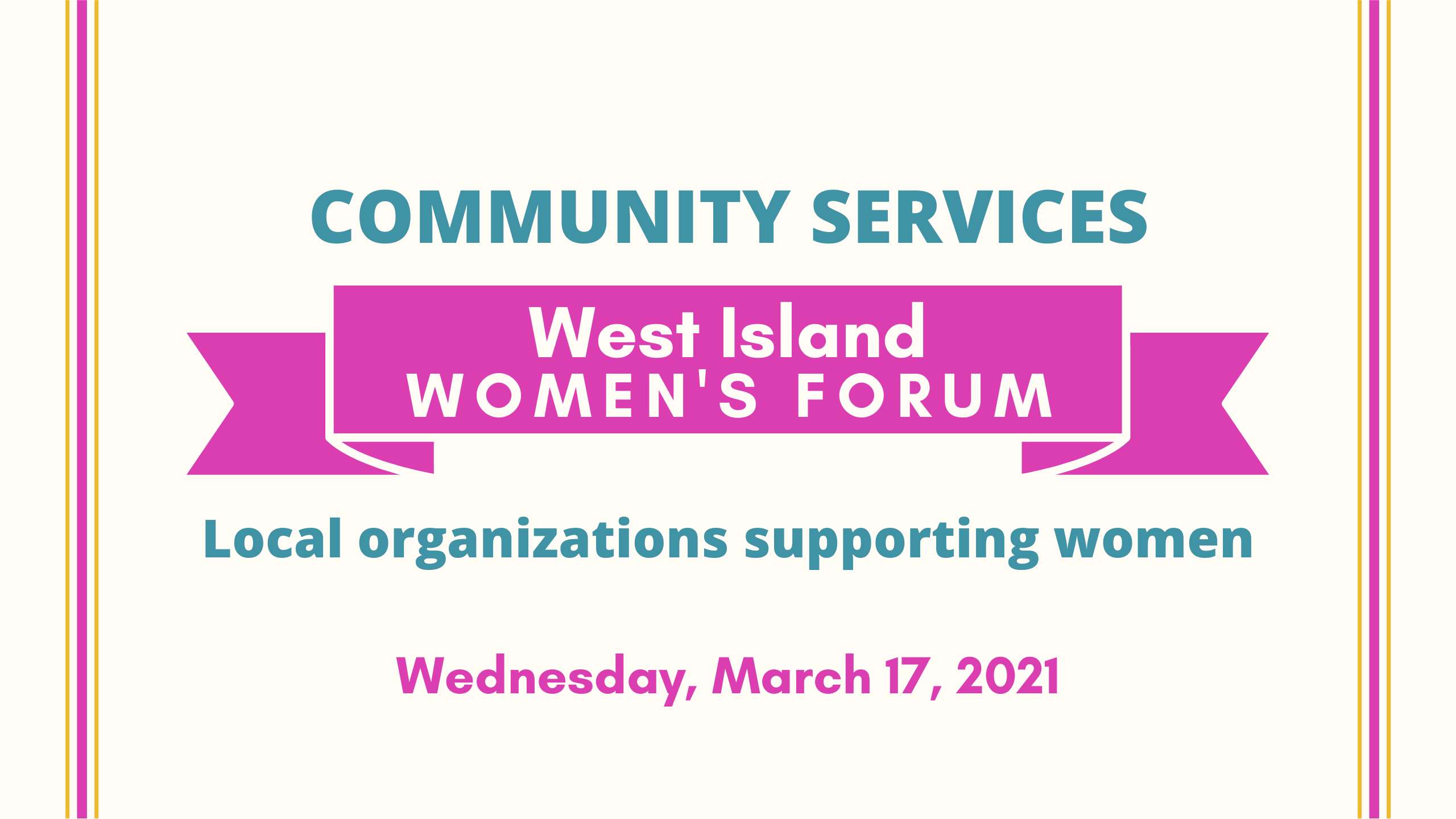 Community Organizations Supporting Women
Wednesday, March 17, 2021, at 2:00pm: This discussion forum will bring together West Island community organizations that provide services for women. The focus will be on identifying gaps in services that are provided and finding ways for organizations to work together to address the needs of women in our community.